Edgerton College is an independent school offering education and support to 14-16 year old students who are not within mainstream education.  The ethos of Edgerton College is based on youth work principles with a unique blend of formal and informal education.
Subject areas offered at GCSE
Maths, English, History, ICT, PSE, Preparation for Working Life.
Other Curriculum Areas Offered
Science, General Studies, Health & Safety, Personal development plans, Job skills including C.V. writing and job applications, Work Experience, Careers advice and guidance and social programmes such as: anti-racism, health issues and drug education. Also Sport, Arts and Crafts.
Ofsted 2012
"The quality of education is good. The curriculum, with its focus on GCSE and other forms of accreditation, engages students and gives them an incentive to learn. They make good progress, gain relevant qualifications and are well prepared for the future. Students' enjoy school and their behaviour improves significantly".
Inspection carried out 14th & 15th November 2012.
Please see full report. (N.B. you will need Adobe Acrobat Reader to view this report. If you don't have it, you can download it for free from here.) 
Community Links 
Xmas Hamper for Bryan Wood Care Home
Motivation Presentation

 

Students present a Xmas Hamper with lots of    goodies for the elderly at Bryan Wood Care Home. Students and staff contributed to making a splendid hamper which was much appreciated by the residents.

 
Teona Leigh Patrice (ex pupil left July 2014) came back to talk to students about how they can achieve and turn their lives around  
Gardeners World
Fruit picking for making jam
Food for Science  
Mock Interviews
Year 10 and 11 students have been involved in mock interviews to prepare them for a real interview either at College, Work Placement, Apprenticeship, Employment or Training
.
Staff and students really appreciated the support from Cummins Turbo Technologies Ltd and Kirklees Council Building Services. 
Fun whilst Learning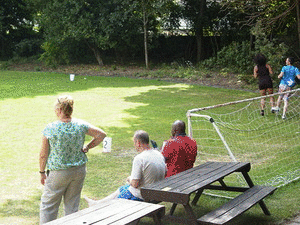 "Coordinates" Maths in Action                                         Team Building
Parental Reviews 
Careers Advice 
Parental Reviews
Students Quotes
"I get more work done here than I did at school"
"The residential was ace, we got to know each other better and had a great time"
"It's brilliant here, I don't feel scared to come to school anymore"
"I never went to school much in year 8 and year 9, now I want to be a teacher"
Parents/Carers Quotes
"The staff at Edgerton College are a dedicated team who go above and beyond what is expected of them"
"I was glad my child was given a sceond chance at his education and thank Edgerton College"
"My daughter is a lot happier since coming to Edgerton College"
"I have seen a big change in her attitude and behaviour since she started at Edgerton, she settled down a lot and is even bringing work home to do"